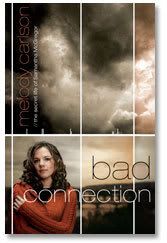 From the back of the book:
Samantha McGregor knows that Kayla Henderson likes to break the rules,considers partying an "extracurricular" activity,and can't stand her parents. Fine. That's Kayla's thing. Samantha's not even surprised when Kayla goes missing.
Hadn't she been saying she was going to take off, to go meet her online "boyfriend" in person? It might not be the smartest move in the world, but Kayla would be okay. She always was.
Then the vision comes...and reveals that Kayla is far from okay. Samantha freaks. Was her vision from God or just imagined? If Kayla's really in danger, what can Samantha do? Only one person can help her: Detective Ebony Hamilton, her father's former colleague.
Now this unlikely pair must work against the clock...and the system...to patch together the truth and find Kayla...before it's too late.
My thoughts:
I think that this book shows us what a real God given gifts can do.I also think It shows us how to use it not abuse it. I love that it give you a sense that you can do more then you can ever know.
I'm planning on reading this entire series, and posting reviews on all of them.
Til then, hold my place for me!
KT