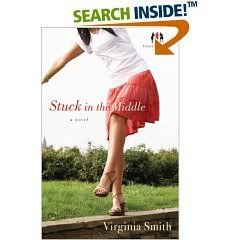 From the Back Cover:
Joan Sanderson's life is stuck. Her older sister, Allie, is starting a family, and her younger sister, Tori, has a budding career.
Meanwhile, Joan is stuck at home with Mom and her aging grandmother. Not exactly a recipe for excitement--or romance. When a hunky young doctor moves in next door, Joan sets out to catch his eye.
But it won't be easy. Pretty Tori flirts relentlessly, and Joan is sure that she can't compete. But with a little help from God, Allie, and an enormous mutt with bad manners, Joan begins to find her way out of this rut and into the life she's been hiding from.
Book 1 of the Sister-to-Sister series, Stuck in the Middle combines budding romance, soul searching, and a healthy dose of sibling rivalry that is sure to make you smile.
"A gentle story of one young woman's season of growth, deftly blending the tangle of family relationships with gifts of whimsy and revelation. A joy to read."
--Sharon Hinck, author of Renovating Becky Miller and Symphony of Secrets
"Virginia Smith has created a charming and humorous novel that celebrates small-town life, generations of women caring for each other, and the value of finding a deeper, more active faith."
--Sharon Dunn, author of the Bargain Hunters mysteries
"This is so much more than a romantic chick-lit novel. This is a tale of the female dynamic in both the family and in the church, and it is powerfully written."
--Deena Peterson, book reviewer, A Peek At My Bookshelf
Virginia Smith is a writer of humorous novels, a speaker, and an avid scuba diver. She launched her career as a novelist with the release Just As I Am in 2006, and has been writing fiction ever since. She and her husband, Ted, divide their time between Kentucky and Utah, and escape as often as they can for diving trips to the Caribbean. Visit her website at www.VirginiaSmith.
My thoughts:
I think this book has made my day, because I'm the middle child in my family. So this hits home with me. This book makes you feel like you're Joan Sanderson and you get wrapped up in the drama that unfolds.
I know for a fact that I got wrapped up in it--I finished in two days! And that's a record for me! I can't wait until the next book comes out...
Till then, hold my place for me,
KT