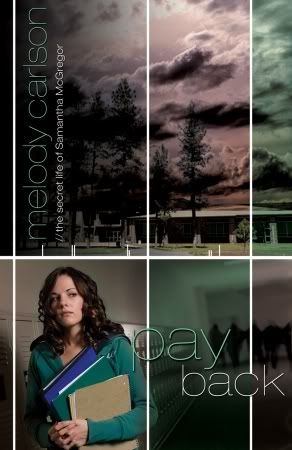 The Back of the Book:
When Samantha McGregor tells her friend Detective Ebony Hamilton of her disturbing visions of a brutal murder at a high school, Ebony asks her to go undercover to help identify the shooter before it's too late. The stakes are raised when Ebony discovers that the potential crime may be connected to a larger terrorism threat!
Meanwhile, Samantha realizes that her mother's new boyfriend is a little too good to be true. Her unsettling visions, combined with Ebony's investigation of Steven's past, reveal him to be more interested in her mother's money than her heart.
To make matters worse, Samantha has been having visions of an unknown boy who is mercilessly being bullied by his peers. Who is this teen? Can she help him?
This fourth and final installment in The Secret Life of Samantha McGregor series brings Samantha her biggest challenges yet, as she works against the clock to stop a mass murder, help a troubled youth, and save her mother from making a terrible mistake!
My Thoughts:
"Payback" is by far the best book out of the whole entire series! I had to stay up late each night just to find out what happened next...and then next...and then next! I have homework to finish, and I still can't put this book down!
In this story, there is more emotion and more about Samantha's family than the others. You feel Sam's pain, and her feelings. The writing is so vivid that you can picture what's happening in the story.
Sam thinks that terrorists are going to attack people at prom, that her mom's boyfriend may be a killer and a boy may be severely beaten. The problem is, does Sam know for sure, or are her visions just brain fog? Sam's frustrated because God isn't giving her clear enough visions in order to know what's what.
Plus, her boyfriend is going through some personal issues and while Sam wishes to be there for him, she's so caught up in other things, she can't.
I'm very disappointed to find out that this is the last book. I wish the author would write more, but I understand that you can only write so much. Still, I think she's an amazing and phenomenal writer, and she deserves props for this one! I plan reading anything else Melody Carlson writes for teens.
Till then, hold my place for me!
KT