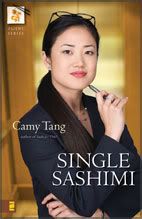 From the Back of the Book:
Venus Chau is a high-powered video game developer. Now she might be working for the man she's always hated … but what if he's no longer the man she thought she knew? The third book in the Sushi series offers romance with the spice of ginger.
My Thoughts:
This book is the third in the series, and is far better than the other two (I know, I keep saying that--but it's TRUE!). I could NOT put this one down (I know, I keep saying that--BUT IT'S TRUE, I TELL YOU!).
The fact that Venus was such a control freak appealed to me. I like order myself, and it reminded me of some people I know. But when she finally decided to let loose, whoa, momma!
The way she allowed God to run her life when everything started tumbling down was amazing and so real. I could understand what she was going through; I could feel what she felt.
When it seemed God was holding her, it felt like He was holding me, too. It was a little freaky, but so cool! I want to learn to be as free and to let go like Venus learned to with God.
I loved the ending, but I'm not giving anything away. Just trust me, it was amazing--except for ONE PART--but I'm not letting that slip either. I was happy, yet not. Hey, I'm 18--what do you expect??
I can't wait to get my hands on the final book, but I'm going nuts just thinking about it. The final book. That will be so cool. Write faster, Camy!
Till then, hold my place for me!
KT